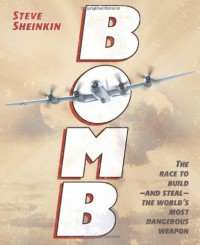 I'm trying to remember where I first heard about Bomb by Steve Sheinkin mentioned. Perhaps it was in list of 2013 Newbery Award Honor Books, or perhaps in the Nerdy Book Club review of The Green Glass Sea, which mentioned that Bomb would make a good companion book.
One might hope that a book about the creation of the first atomic bomb would be a bit explosive, instead Bomb is a painstaking narrative with lots of interlocking characters. Sheinkin obviously did extensive research, and then does a stellar/solid job of framing and transmitting a complex story without having either the science or the personalities overpower the story. Written for middle and high-school students, Bomb would also hold the interest of an adult new to the material. While I was familiar with the broad outlines of the Manhattan Project and the Los Alamos story, the details of Soviet spying and the destruction of the heavy water plant in Norway were new to me.
My husband, a historian by training, took a quick look at Bomb and deemed it a legitimate work of history. He thought that Mr. Sheinkin had done a proper job of balancing 3rd party descriptions, recollections, quotes, and facts while being conscious of the intended audience. My 7th grader who gravitates to non-fiction had Bomb on frequent rotation for at least a month and spent quite a bit of time talking/working through the distressing parts of the story. My 5th grader also read Bomb, stored the details into his prodigious memory, and then moved on – but requested that we get the other books written by Steven Sheinkin. Both boys have since devoured Mr. Sheinkin's more recent book The Port Chicago 50: Disaster, Mutiny, and the Fight for Civil Rights along with the older works available in our public library.
As a sidenote, I read and reviewed The Green Glass Sea in May 2013. My reaction to Green Glass Sea stated in part "Part of the charm of the book was having famous people, like Enrico Fermi, just showing up as dinner companions and other incidental scenes. But if you don't know who they are, then some of the interest is gone." Reading Bomb in parallel would give context to the people portrayed in The Green Glass Sea. I agree that these two books make a good fiction/non-fiction pairing, such as becoming beloved by teachers trying to adapt to the Common Core requirements.